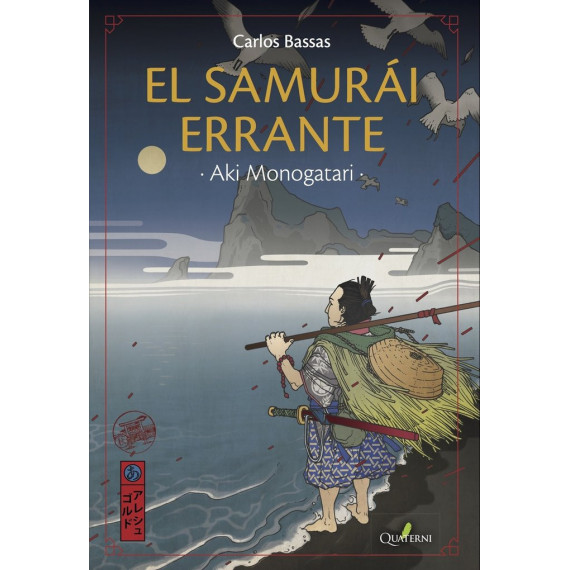 View larger
el Samurái Errante. Aki Monogatari
Ref: U760010016-9788494716980
---
FICCION MODERNA Y CONTEMPORANEAMISTERIOS HISTORICOSAVENTURAAVENTURA HISTORICAFICCION HISTORICA
Share this product
---
Shop online for thousands of products at Guanxe.com!
FREE shipping to all Canary Islands. More info
Fast delivery within 24/72 hours*. See conditions.
100% secure shopping with our trusted sellers. See conditions.
---
Japón, Era Keich?, año decimosexto, siendo Emperador Go-Mizunoo. El ?gosho Tokugawa Ieyasu ha ordenado la construcción en secreto de una nao de estilo occidental en un lugar recóndito de la provincia de Mutsu, al norte. Su objetivo es establecer una nueva ruta comercial con el virreinato de Nueva España aprovechando la corriente negra. El proyecto avanza a buen ritmo, hasta que, con la llegada de la primera luna de otoño, la muerte de una serie de campesinas hace que los trabajadores se nieguen a continuar. Todo parece indicar que el responsable es un kodama, un espíritu del bosque, decidido a proteger su hogar. Dispuesto a averiguar la verdad, el daimy? Date Masamune, señor de esas tierras, envía a su Investigador de Asuntos Especiales, Miyamoto Tsunetomo, y a su hijo adoptivo y discípulo Aki al lugar; cualquier retraso en la fecha de entrega del barco del sh?gun puede suponer que el clan caiga en desgracia. Pero un contratiempo inesperado obliga a Aki a seguir solo. La única ayuda con la que contará será la de un shugy?sha, un misterioso samurái errante que ha conocido durante el camino. El samurái errante es una novela de aventuras fielmente ambientada en el Japón de principios del siglo XVII, una era en la que todo está cambiando, desde el nuevo sistema de gobierno instaurado por los Tokugawa tras la unificación del país, a las funciones y la propia razón de ser de la clase samurái, ahora sometida a la burocracia y al creciente poder de una nueva clase social, los ch?nin. Japón necesita cada vez menos guerreros y más comerciantes. Un relato apasionante que hará las delicias de todo tipo de lectores, desde los más exigentes con la novela histórica y de aventuras, a los más fieles seguidores del Japón más místico y tradicional, con su folklore, su magia y sus misterios.
In general terms and as a guide for our customers, except for unforeseen circumstances or stock-outs, the estimated delivery time for orders to Gran Canaria and Tenerife will take between 24/72 hours (working hours, i.e. except Saturdays, Sundays and public holidays) to be delivered.
Orders received from Monday to Friday until 11.30 a.m. can be processed the same day, after this time they will be processed for the following day. Orders received on Saturdays, Sundays and public holidays will be processed on the first available working day.
Orders to Lanzarote and Fuerteventura may take between 48/96 hours (working days). Orders to La Palma, La Gomera and El Hierro can take between 72/120 hours (working hours), although we will always try to deliver orders as soon as possible.
Guanxe.com has free shipping costs on all its products.
All the products available on the platform are in warehouses and shops in the Canary Islands, and except for stock-outs, they will be delivered according to the established conditions.
There are certain products on Guanxe.com whose stock will appear temporarily out of stock or unavailable. In this case you will be given the option in the shopping cart to order it on request. Guanxe.com will receive such request, and as soon as possible will contact you to tell you how long it will take to get the product and if you agree, we will proceed to order it for you.
Due to the health emergency caused by the COVID-19 we cannot guarantee 100% of the previous deadlines due to saturation of the transport agents. From Guanxe we do everything possible to ensure that your shipment arrives as soon as possible.
SALES TO MAINLAND SPAIN AND EUROPE
Shipments to mainland Spain have an estimated delivery time of approximately 7 to 15 days (working days).
As Guanxe is in the Canary Islands, the prices appear with IGIC (7%) not with VAT. If a customer makes a purchase from mainland Spain or the Balearic Islands, he/she will have to pay 21% VAT separately.
GUANXE offers its customers the possibility of exercising their right to return any item purchased within 14 calendar days from the date of receipt.
Within this period we accept returns provided that the product is in optimum condition, in its original packaging, unused and suitable for sale. The shipping costs of the initial order will not be refunded (if any), and the return shipping costs will be borne by the customer.
customer's account. Once the goods have been received, our quality department will check them, and if they are indeed in perfect condition, we will proceed to pay the amount of the returned products using the same payment method used for the order.
Important: We inform you that, as established by the Royal Legislative Decree 1/2007 of 16 November, which approves the revised text of the General Law for the Defence of Consumers and Users and other complementary laws, returns of products related to Personal Care, Health and Hygiene are not accepted for reasons of hygiene. For the same reason, the product you wish to return must be unopened, in its original packaging and seal.
Erroneous shipments:
If you have received a different product to the one you ordered, please contact us within 72 hours of receiving the order via the contact form or email (pedidos@guanxe.com) and we will process your request. The product must be in optimal conditions, with its original packaging, without any type of use and suitable for sale, and internal checks will also be carried out.
To speed up the process, please send us the following photographs of the product in question attached to your request:
- Photograph of the front of the product in its original packaging.
- Photograph of the barcode (EAN) of the product.
In this case, we will review your order and organise the collection of the product with you.
In case of an error by GUANXE in the preparation of the order, the transport costs for the exchange will be borne by us, in case of customer error at the time of purchase, the customer must pay the cost of the transport service for the exchange. *The return will not be admitted, as well as the claim of a
The return will not be admitted, as well as the claim of a missing article, if it has not been communicated within the established term.
Breakages or defects of origin:
In the event that your order has arrived defective from origin or has suffered a breakage, please contact us through our contact form or email pedidos@guanxe.com within 72 hours of receipt and we will manage your incident.
Important: We will not accept the return of a damaged or defective item if it has not been communicated within the previously established period. In such cases, we will always need one or more proofs from the buyer to be able to determine the damage/defects and to be able to manage the incident correctly. You must send photographs of the goods/order or some other evidence that allows us to determine the facts. Once the verification process has been completed, if necessary, a courier will be sent to replace or return the goods. In the event that you receive damaged or broken goods, we advise you to also inform the courier agency that handled the delivery of your order. Despite our best efforts, unforeseen events or stock shortages may occur. At all times the customer will be informed of these contingencies and the expected delivery time.
Book Binding
Pocket
Language Book
spa
---
Related products