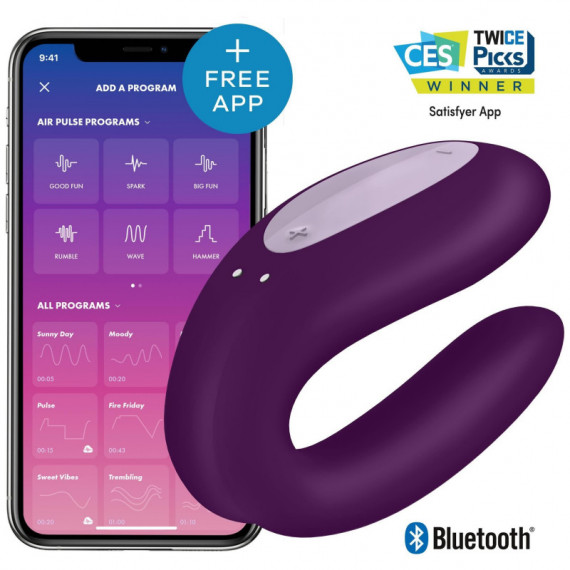 View larger
SATISFYER Double Violet
Ref: 4061504002408
---
Our Double Joy intensely stimulates both partners during sex. The U-shape fits both inside and out, ensuring a seductive sensation for the clitoris, G-spot and penis. With its own app, this high-tech toy is enhanced with remote play and more.
Share this product
---
Shop online for thousands of products at Guanxe.com!
FREE shipping to all Canary Islands. More info
Fast delivery within 24/72 hours*. See conditions.
100% secure shopping with our trusted sellers. See conditions.
---
Double Joy" Product Information
Our Double Joy intensely stimulates both partners during sex. The U-shape fits both inside and out, ensuring a seductive sensation for the clitoris, G-spot and penis. With its own app, this high-tech toy is enhanced with remote play and more.
| | |
| --- | --- |
| 15 years commercial warranty | 2 super powerful motors |
| Can also be used without an app | Infinite variety of programs through the app |
| Body-friendly silicone | Editable preset programs |
| Waterproof (IPX7) | Lithium-ion battery |
| Easy to clean | Magnetic USB charging cable included |
what is the Satisfyer Double Joy?
The Satisfyer Double Joy is a skin-friendly silicone couples vibrator that enhances intimate conversations with impressive vibrations and thrilling rhythms. Thanks to its ergonomic and flexible design, it glides elegantly between you and takes you straight to the clouds. Simply insert the smaller shaft of the U-shaped vibrator during sex and enjoy simultaneous stimulation of both clitoris and penis. When he inserts his penis, additional pleasurable tension is created, so the inner shaft of this sexual wellness device masterfully stimulates the G-spot and glans. The two motors vibrate with sensual power at both ends to bring you to extraordinary orgasms.
The vibrator for couples is also waterproof (IPX7 protection rating) and can accompany you both under the sheets and in a whirlpool bath or bathtub. Once the battery is depleted, you can easily and environmentally friendly recharge it using the supplied magnetic USB charging cable. The couples vibrator is soft and pleasant to the touch thanks to its silky smooth silicone surface, and can be easily cleaned after use with a little warm soapy water and a special toy cleaner.
how does the Satisfyer Connect app work?
The Satisfyer Connect app offers you completely new pleasure adventures. Simply download the app for free for iOS and Android on your smartphone, tablet or Apple Watch. Then you can easily connect the Satisfyer Double Joy to your device via Bluetooth or the Internet and let yourself go; there are no limits to your creativity. Turn ambient sound into vibrations for the vibrator or transform your favorite Spotify playlist into sensual vibrations that you can feel as passionate beats between you.
think others should benefit from your passionate creations? No problem, because with the Satisfyer Connect app you can share your vibration patterns with other users, worldwide. For that extra sense of pleasure, you can let others control the Double Joy or even control other users' Satisfyer sexual wellness toys via video chat. The app complies with GDPR and German and European data protection regulations.
dive into a whole new world full of erotic adventures and enjoy hours of unparalleled partner fun!
In general terms and as a guide for our customers, except for unforeseen circumstances or stock-outs, the estimated delivery time for orders to Gran Canaria and Tenerife will take between 24/72 hours (working hours, i.e. except Saturdays, Sundays and public holidays) to be delivered.
Orders received from Monday to Friday until 11.30 a.m. can be processed the same day, after this time they will be processed for the following day. Orders received on Saturdays, Sundays and public holidays will be processed on the first available working day.
Orders to Lanzarote and Fuerteventura may take between 48/96 hours (working days). Orders to La Palma, La Gomera and El Hierro can take between 72/120 hours (working hours), although we will always try to deliver orders as soon as possible.
Guanxe.com has free shipping costs on all its products.
All the products available on the platform are in warehouses and shops in the Canary Islands, and except for stock-outs, they will be delivered according to the established conditions.
There are certain products on Guanxe.com whose stock will appear temporarily out of stock or unavailable. In this case you will be given the option in the shopping cart to order it on request. Guanxe.com will receive such request, and as soon as possible will contact you to tell you how long it will take to get the product and if you agree, we will proceed to order it for you.
Due to the health emergency caused by the COVID-19 we cannot guarantee 100% of the previous deadlines due to saturation of the transport agents. From Guanxe we do everything possible to ensure that your shipment arrives as soon as possible.
SALES TO MAINLAND SPAIN AND EUROPE
Shipments to mainland Spain have an estimated delivery time of approximately 7 to 15 days (working days).
As Guanxe is in the Canary Islands, the prices appear with IGIC (7%) not with VAT. If a customer makes a purchase from mainland Spain or the Balearic Islands, he/she will have to pay 21% VAT separately.
GUANXE offers its customers the possibility of exercising their right to return any item purchased within 14 calendar days from the date of receipt.
Within this period we accept returns provided that the product is in optimum condition, in its original packaging, unused and suitable for sale. The shipping costs of the initial order will not be refunded (if any), and the return shipping costs will be borne by the customer.
customer's account. Once the goods have been received, our quality department will check them, and if they are indeed in perfect condition, we will proceed to pay the amount of the returned products using the same payment method used for the order.
Important: We inform you that, as established by the Royal Legislative Decree 1/2007 of 16 November, which approves the revised text of the General Law for the Defence of Consumers and Users and other complementary laws, returns of products related to Personal Care, Health and Hygiene are not accepted for reasons of hygiene. For the same reason, the product you wish to return must be unopened, in its original packaging and seal.
Erroneous shipments:
If you have received a different product to the one you ordered, please contact us within 72 hours of receiving the order via the contact form or email (pedidos@guanxe.com) and we will process your request. The product must be in optimal conditions, with its original packaging, without any type of use and suitable for sale, and internal checks will also be carried out.
To speed up the process, please send us the following photographs of the product in question attached to your request:
- Photograph of the front of the product in its original packaging.
- Photograph of the barcode (EAN) of the product.
In this case, we will review your order and organise the collection of the product with you.
In case of an error by GUANXE in the preparation of the order, the transport costs for the exchange will be borne by us, in case of customer error at the time of purchase, the customer must pay the cost of the transport service for the exchange. *The return will not be admitted, as well as the claim of a
The return will not be admitted, as well as the claim of a missing article, if it has not been communicated within the established term.
Breakages or defects of origin:
In the event that your order has arrived defective from origin or has suffered a breakage, please contact us through our contact form or email pedidos@guanxe.com within 72 hours of receipt and we will manage your incident.
Important: We will not accept the return of a damaged or defective item if it has not been communicated within the previously established period. In such cases, we will always need one or more proofs from the buyer to be able to determine the damage/defects and to be able to manage the incident correctly. You must send photographs of the goods/order or some other evidence that allows us to determine the facts. Once the verification process has been completed, if necessary, a courier will be sent to replace or return the goods. In the event that you receive damaged or broken goods, we advise you to also inform the courier agency that handled the delivery of your order. Despite our best efforts, unforeseen events or stock shortages may occur. At all times the customer will be informed of these contingencies and the expected delivery time.
---
Related products