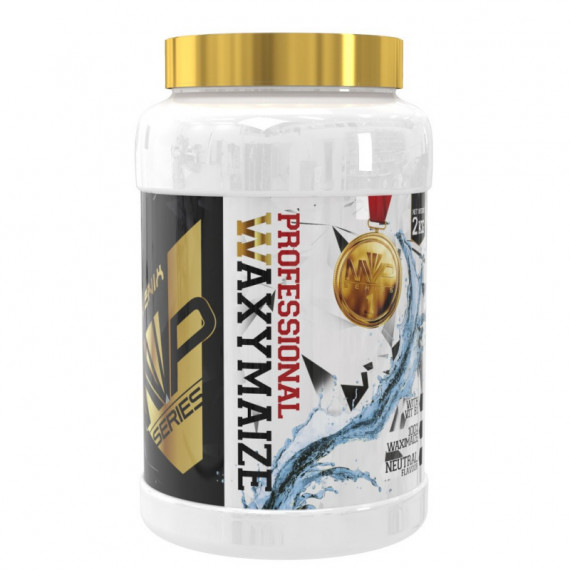 View larger
Share this product
---
Shop online for thousands of products at Guanxe.com!
FREE shipping to all Canary Islands. More info
Fast delivery within 24/72 hours*. See conditions.
100% secure shopping with our trusted sellers. See conditions.
---
WAXY MAIZE is a supplement based on modified starch and vitamin B1 that will be very useful to provide extra energy when facing training.

Main benefits thanks to the action of its two ingredients, they provide:
Amylopectin
Branched polysaccharide that is part of the starch, it is characterized by having a rapid digestion in the body, releasing glucose into the bloodstream. Perfect to ingest before or during a training session contributing to get the best workouts and achieve a normal muscle recovery after the session.

Vitamin B1
It is a water-soluble vitamin, which helps the body to convert carbohydrates into energy, in this case amylopectin. In this way it will be achieved in a faster way, an extra supply of energy during training, as mentioned above. In addition, it has many benefits in the body, such as contributing to the normal maintenance of the central nervous system and helping the process of muscle contraction.

Therefore, the synergistic action of these two ingredients will be perfect to face all types of training

This product is ideal for:

- Athletes who arrive at their training session with their deposits low

- Athletes who want a carbohydrate with good solubility and easy to take.


Modified starch, enriched with vitamin B1.
Net weight: 2 kg.
Directions for use: mix 75 g of product (1 heaped 90 ml scoop) in 200 ml of water.

Ingredients: Modified starch, flavor, acidulant (citric acid), sweeteners (sucralose and acesulfame K), colorants (tartrazine and patent blue V) and vitamin B1 (thiamine hydrochloride).May contain traces of gluten, eggs, milk, fish and soy.Contains a dosing scoop. Tartrazine may have negative effects on activity and attention in children. Store tightly closed in a cool, dry place.
In general terms and as a guide for our customers, except for unforeseen circumstances or stock-outs, the estimated delivery time for orders to Gran Canaria and Tenerife will take between 24/72 hours (working hours, i.e. except Saturdays, Sundays and public holidays) to be delivered.
Orders received from Monday to Friday until 11.30 a.m. can be processed the same day, after this time they will be processed for the following day. Orders received on Saturdays, Sundays and public holidays will be processed on the first available working day.
Orders to Lanzarote and Fuerteventura may take between 48/96 hours (working days). Orders to La Palma, La Gomera and El Hierro can take between 72/120 hours (working hours), although we will always try to deliver orders as soon as possible.
Guanxe.com has free shipping costs on all its products.
All the products available on the platform are in warehouses and shops in the Canary Islands, and except for stock-outs, they will be delivered according to the established conditions.
There are certain products on Guanxe.com whose stock will appear temporarily out of stock or unavailable. In this case you will be given the option in the shopping cart to order it on request. Guanxe.com will receive such request, and as soon as possible will contact you to tell you how long it will take to get the product and if you agree, we will proceed to order it for you.
Due to the health emergency caused by the COVID-19 we cannot guarantee 100% of the previous deadlines due to saturation of the transport agents. From Guanxe we do everything possible to ensure that your shipment arrives as soon as possible.
SALES TO MAINLAND SPAIN AND EUROPE
Shipments to mainland Spain have an estimated delivery time of approximately 7 to 15 days (working days).
As Guanxe is in the Canary Islands, the prices appear with IGIC (7%) not with VAT. If a customer makes a purchase from mainland Spain or the Balearic Islands, he/she will have to pay 21% VAT separately.
---
Related products